Facings and Veneers Tilburg
Do you need veneers? Does any of the following sound like you?
Would you like to have beautiful white teeth?
Or would you like a solution for cracks between your teeth?
Or would you like to have multiple broken teeth repaired?

With help from facings, our dentists can refresh and improve your smile.
What are facings/veneers?
A facing is a shell or layer of tooth-coloured porcelain or composite that is placed by a Dentist over the facial surfaces of your teeth to correct uneven tooth alignment, worn tooth enamel, discolouration or spacing, and chips or cracks.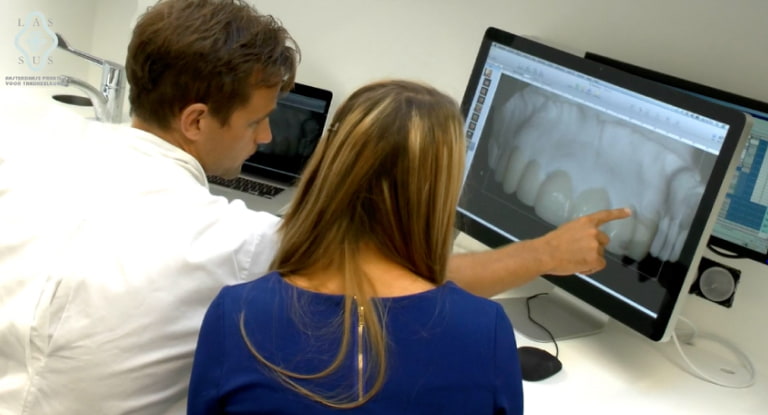 Why should I have my veneers/facings placed
by Lassus Tandartsen Tilburg?
We use high-quality and sustainable veneers
We can place composite facings in a single appointment
The treatment can be carried out painlessly
Decide together with a specialist the new colour of the veneers

In our modern dental practice in Tilburg, you can make an appointment with a specialist to discuss your facing needs.
The differences between composite and porcelain
There are two types of facings: composite and porcelain. With both, the principle is the same. Shells are placed over the teeth. There's a significant difference between the type of materials that are used for facings.
Composite facings
Advantages:
Relatively cheap in comparison with porcelain facings
Can be placed in a single appointment
Disadvantages:
Discoloring occurs faster than with porcelain
A shorter usage lifespan than with porcelain facings
Porcelain facings
Advantages:
Facings made from porcelain don't discolor
The specialist can work with multiple shades of color
They last longer
Low maintenance
Disadvantages:
Facings made from porcelain are significantly more expensive than those from composite
Multiple treatments necessary
FAQ
How long do facings last?
---
We estimate that a facing can last roughly from five to ten years. This, of course, depends on your lifestyle and drinking habits. If for example you smoke a lot and drink a lot of coffee then there's a chance that your facings won't remain looking good for a long time. It's also possible that your facings could be damaged if for example you regularly grind your teeth or bite your nails.
Can I eat everything with facings?
---
After the treatment, it's possible to eat and chew normally. Be careful not to bit hard things such as nuts, raw carrots or nails. Also, we advise you not to tear food apart with your teeth such as French bread.
Is the placing of facings painful?
---
The placing of facings is not painful. If teeth enamel needs to be filed down from your natural teeth, then this doesn't go as deep as for example the drilling into a tooth. You shouldn't experience any pain from this at all.
The costs of the placing of facings
| Treatment | Tarif |
| --- | --- |
| Facing composite | € 150-160 per tooth/molar |
| Facing porcelain | € 700-900 per tooth/molar |
Dental veneers are just one of the many comprehensive specialisms carried out by Lassustandartsen at our practice in Tilburg. Whatever your dental needs are, we have a solution. We're open to discussing your dental needs. Please contact us to speak with a dental assistant and to schedule an appointment with one of our English-speaking specialists in Tilburg.